Whether looking to renovate an outdoor space or just want to dream, there is sure to be something that fits everyone's needs within these beautiful photos. Everything from elaborate backyard patio kitchens to just a simple grill there is definitely something for every occasion.
In these photos we have compiled a vast selection of outdoor patio kitchens that vary greatly in design style. These outdoor patio kitchens are great for anyone looking to bring the outside in. A great amount of these outdoor patio kitchens are seen in warmer places of the world, but that does not mean that you cannot have an amazing outdoor patio kitchen wherever you live.
Outdoor patio kitchens are a great way to entertain guests, but not only that they add value to a home. Outdoor patio kitchens are better for families as grilling provides healthier food and the extra space on the patio is a great place for the family to bond. Families that love being outdoors benefit tremendously from having an outdoor patio kitchen as it expands the living area of their house and provides them the opportunities to be outside as much as they like.
---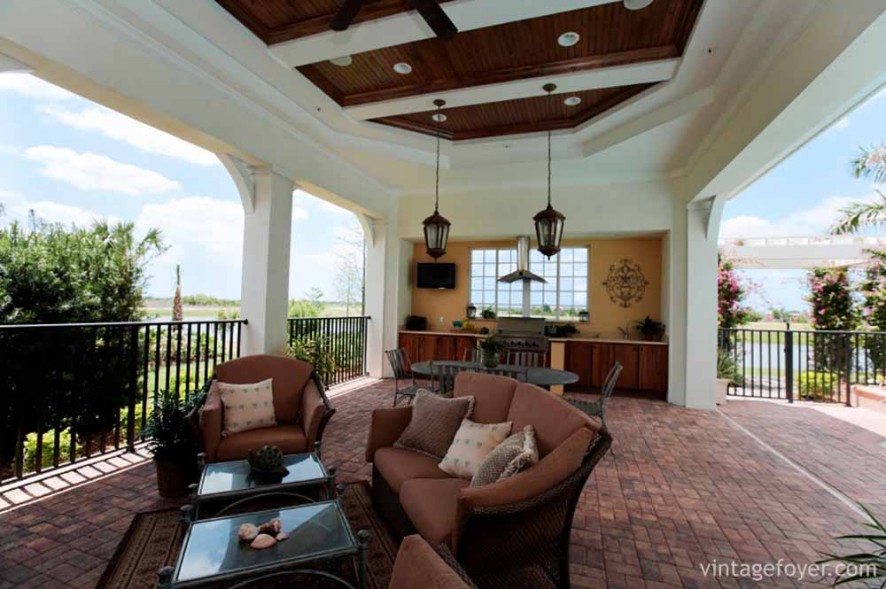 This outdoor patio kitchen features a beach-like aura created by the light colors contrasting with dark natural tones of the brick, wood, and patio furnishings. This light open space is a great place to stay cool while entertaining guests.
--- Simple but functional would easily describe this outdoor space. A beautiful stainless steel grill provides the cooking space necessary to make this outdoor space a functional cooking area. Care was taken in selecting the brick and furnishing to make certain that they had the same color scheme.
--- Although this outdoor patio kitchen looks small it features a pergola in the side yard which provides the extra space needed for entertaining large groups outside. There is a nice bar area with bar stools which provides extra functionality for this outdoor patio kitchen to entertain small groups.
--- This outdoor kitchen is a great place to sit and relax. All of the warm tones mixed with fresh air and natural like make this a perfect place to entertain guests or to just sit and read. The stainless steel appliances offer plenty of space to store and cook food outside.
--- If you're looking for a romantic outdoor patio kitchen this is the place for you. Warm tones, plants, and candlelight all provide a relaxing but romantic environment for any couple. It also provides a great space to enjoy the outdoors with friends and family.
--- Fresh and bright are the two words that come to mind when you see this outdoor space. It features many different types and colors of plants that make this space feel fresh and clean. This outdoor patio kitchen even offers a place to store kitchenware outside so there is no more constant running back and forth between the patio and the inside kitchen.
--- This outdoor patio kitchen features a modern design with clean lines and a light color scheme. For convenience this space offers a dishwasher and sink along with an outdoor oven. The natural hardwood decking provides a very beach-like feel to this space.
--- The rustic feel of this outdoor patio space just makes a person feel at home. The natural tones in the hardwood table mixing with the natural tones in the stone wall provides this space with a home-like feel. The light paint colors of this space make it a fresh and bright place where anyone can relax.
--- The clean lines of this outdoor patio kitchen bring it a fresh modern feel. Light colors and natural tones make this a great place for relaxing with family and friends. This outdoor patio kitchen features plenty of storage space and an outdoor sink for convenience.
--- This lakeside outdoor patio kitchen offers a great view while cooking for and entertaining guests. The natural stone fireplace offers warmth and a great place to cook. The natural tones of this outdoor patio kitchen keep it light but relaxing for family and friends.
--- This outdoor patio kitchen has a very traditional feel to it. The old brick style reminds a person of traditional designs. This shows that an outdoor patio kitchen can have any design that you prefer.
--- Whether roasting marshmallows or just need some warmth this beautiful stone hearth will provide family and guests just that. Made out of natural stone this is a major focal point for this outdoor space. Care was taken to select an outdoor rug for this space making sure to find a durable material that will stand up to the elements for many years to come.
--- Whether a person lives on the beach or just wants to give their home that feel this is the perfect outdoor kitchen for that. Windows were placed in this outdoor space to protect it from rain and other elements, but they also offer an amazing view giving you the feeling of being outside.
--- For anyone looking for a great place to relax with a rustic design theme this is the right outdoor patio kitchen for them. The natural wood fence and pergola mixed with the light hardwood deck give you a warm cozy feeling, and to keep warm while entertaining there is a beautiful stone fireplace.
--- This exquisite space offers plenty of space for entertaining and for cooking outside. This is a great place for spending time with family and friends or just sitting and relaxing by yourself. The natural tones blend flawlessly with the beautiful landscaping and make this outdoor space seem even more marvelous.
--- This lakeside manor offers beautiful architecture in this outdoor space. The natural tones and the plants throughout this space enhance the feeling of having an outdoor patio kitchen. Durable tile that can withstand the elements and also offer a beautiful natural tone that matches the furnishings has been wisely chosen for this space.
--- This light and modern outdoor patio kitchen offers plenty of storage space and a durable stainless steel fridge that is sure to last a lifetime. The black marble countertop offers a great contrast to the light tones used throughout the rest of this space, and enhances the modern feel of this patio kitchen.
--- Natural tones and trees mixed into this outdoor patio kitchen make it mix flawlessly with the land and pond around it. Stainless steel appliances and storage space offers convenience for anyone cooking in this space. Lounge chairs on this patio offer a beautiful view to admire while relaxing or waiting for food.
--- A complete stainless steel kitchen with marble countertop are the highlight of this outdoor space. This is a great place to have dinner with family and friends while enjoying the beautiful lakeside view. It would be hard not to relax in such a beautiful space.
--- Natural wood tones and rock counters offer a rustic feel to this gorgeous outdoor patio kitchen. The forest green color of the countertops mixes well with the shrubs making it feel at one with nature. Stainless steel appliances offered in this space offer a beautiful contrast to the rustic feel enhancing it even more.
--- Whether having a party or just relaxing with family this would be the perfect outdoor space for almost everyone. It features beautiful stainless steel appliances and natural wood furnishings mixed with plants here and there.
--- This outdoor space offers a cool place to cook during the heat of the summer. Light colored tile and stone helps to keep down the heat in this outdoor space, while the wide open archways offer cool breezes to anyone found relaxing in this space.
--- This outdoor patio kitchen features a beautiful pool to cool off in while waiting for your food to grill. It also offers beautiful shaded areas for eating and grilling. If you need a place to relax there are plenty of lounge chairs to spend some time in.
--- This outdoor patio kitchen features beautiful stone and brick work that help this outdoor space flow beautifully into the landscaping. The bright pops of color in the umbrella mix wonderfully with the blooming flowers throughout this space.
--- This beautiful outdoor patio kitchen accents the mountain lake view even more than if it had been on its own. This outdoor space features a full kitchen including a sink, microwave, and full size fridge for convenience. The light tones mixed with pops of blue help make this feel like a beautiful lakeside home.
--- This rustic outdoor patio kitchen features a full size stainless steel oven made to withstand the elements. There is also a brick fireplace used for heating and cooking in the outdoor area. The earth tones of this outdoor space make it feel like a part of nature.
--- The mixing of plants and shrubs into this outdoor kitchen space make it feel light and fresh. While the natural tones in the cabinetry bring an outdoor feel into the cooking space. This is a great place to enjoy the scenery while cooking or while just relaxing.
--- The landscaping in this outdoor space really accents it and makes it pop against the grey stone tile and natural stone walls. The patio set unquestionably will be a great place to entertain and relax as it mixes flawlessly with the beautiful landscaping.
--- This stone wall and marble countertop help transform this space into a great place to relax with the family or to have a romantic date. The natural tones throughout this outdoor patio kitchen offer a rustic feel to this outdoor space.
--- This poolside outdoor space features recycled cabinetry and countertops that offer durability and beautiful aesthetics. The stainless steel grill offers a great place to watch the children while you make dinner, or to just sit and relax in the lounge chairs while waiting for the food to cook.
--- This outdoor patio space offers a large stainless steel grill on recycled countertops with a beautiful marble countertop. The neutral tones help this space to focus on the marvelous lakeside grill. This is a great place to entertain friends and family before going out an enjoying the lake.
---