One way to make an unforgettable entrance is with a landscaped front yard. Whether as part of the original construction or a later addition, the yard can be transformed into a stylish statement by adding the homeowner's personal touch.This not only increases the property value, it also shows how well one is living.
Be inspired with our gallery of landscaping ideas which caters to a wide range of maintenance levels. Here, you will find planters of exciting shapes and sizes, some narrow, while others are wide. Some are flat, and others are sloped. The collection also shows yards with extensive lawns and others that skip the feature altogether, favoring gardens. Featured plants include evergreens, flowering perennials, colorful shrubs and bushes, topiary and garden-safe trees.
In addition, we made sure to consider climate and topography as essential considerations in building a yard. Check out this gallery which offers ideas for all types of terrains, and be inspired to start, spruce up, or renovate your front yard. Talk about "curve" appeal. This Cape Cod style cottage is hugged by a front yard with a gorgeous manicured lawn featuring a merry mix of perennials in mulch beds. Two medium-height trees are kept to the side, which provide both shade and privacy. This wraparound yard offers a wide variety of foliage – small, medium and tall. Trimmed hedges line the walkway. Colorful shrubs include flowering hydrangea and tree rhododendron with carefully placed pine and cypress tress to add height. Here we see how a minimalistic front yard can truly enhance a home's façade. Much of this lawn's area is populated by bright green grass. A plant bed bordered in natural rocks looks modern, holding drought-tolerant plants in a variety of colors. Suburban home with large-stone walkway that winds into the front porch. Cute, low-growing bushes look like buttons arranged on the path's sides. This huge home with exteriors in wood panels and brick beautifully plays with scale. The large concrete platforms are shaped for the driveway and layered strategically for the walkway which leads to a half-brick, half-wood pergola ushering the front door. Bermuda grass and Tiny Elijah blue fescue shrubs are cool choices to soften the edges. Double-layer front yard paved in red brick. Foliage includes free-growing grass, lavender, a blend of orange and white lilies, and a white jasmine tree. The idyllic English-countryside-style garden also features lovely ivy crawling onto the walls of the large brick home. Here's an amazing Spanish villa that features a marble wishing well, and two marble walkways – one meandering toward the main door, and the other, stepping-stones leading to a side door with dark wood awning. Rose bushes and lavenders are planted on patches of flowerbeds, fitting in perfectly with cypress trees and the mountain-peak background.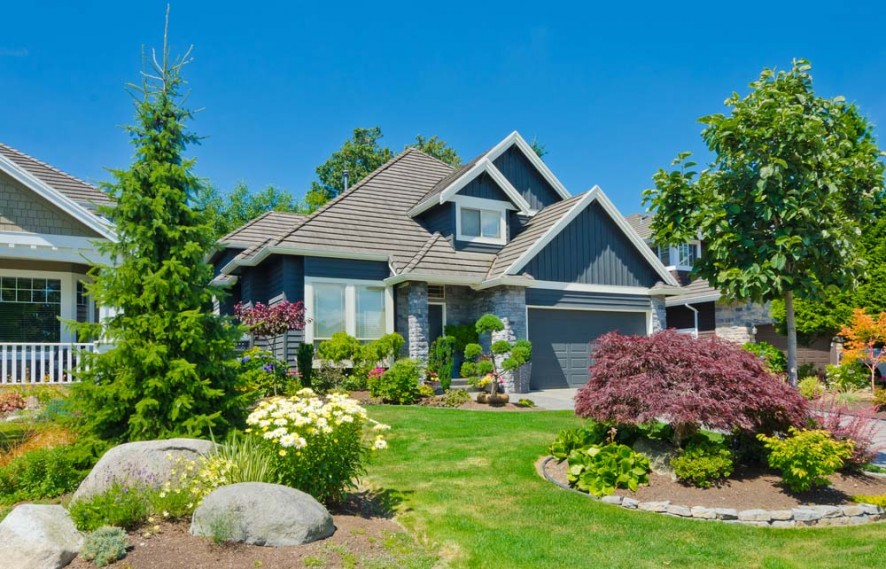 This medium-sized garden makes good use of space with sectioned planters. One cluster adorns the home's front entrance with bonsai trees. Two others are closer to the road: one with an unexpected mix of white and yellow daisies, big rocks and a pine tree; and the other circular with small rocks and a dwarf maple with lush burgundy leaves. No landscaping design gallery is complete without a sloped front yard. This one features a limestone stairway, laced with shrubbery that gradually increases in height as they go uphill. What an extraordinary idea! This sweet yard is slightly sloped with a pebble-specked concrete stairway. On both sides of the steps, the edges of the lawn grass form what look like curly brackets, making room for two cherry blossom trees. Also seen are column-shaped trees framing the home's side window.